*Ring! Ring! Ring!* What is Proper Phone Etiquette? ?
*Ring! Ring! Ring!* What is Proper Phone Etiquette? ?
It comes as second nature to us when answering the phone to friends, relatives, and most importantly our valued clients. "Hello?" "Hi, this is *your name*!" or just waiting until the call goes to voicemail to see who it is. Whatever your way of answering the phone may be, you most likely are doing it in a very informal way without even knowing it. When answering a client call, you set the mood from the start by the tone of your voice, words and actions during the call. In this article, you will learn about proper phone etiquette between you and your client – whether you are calling or receiving the call.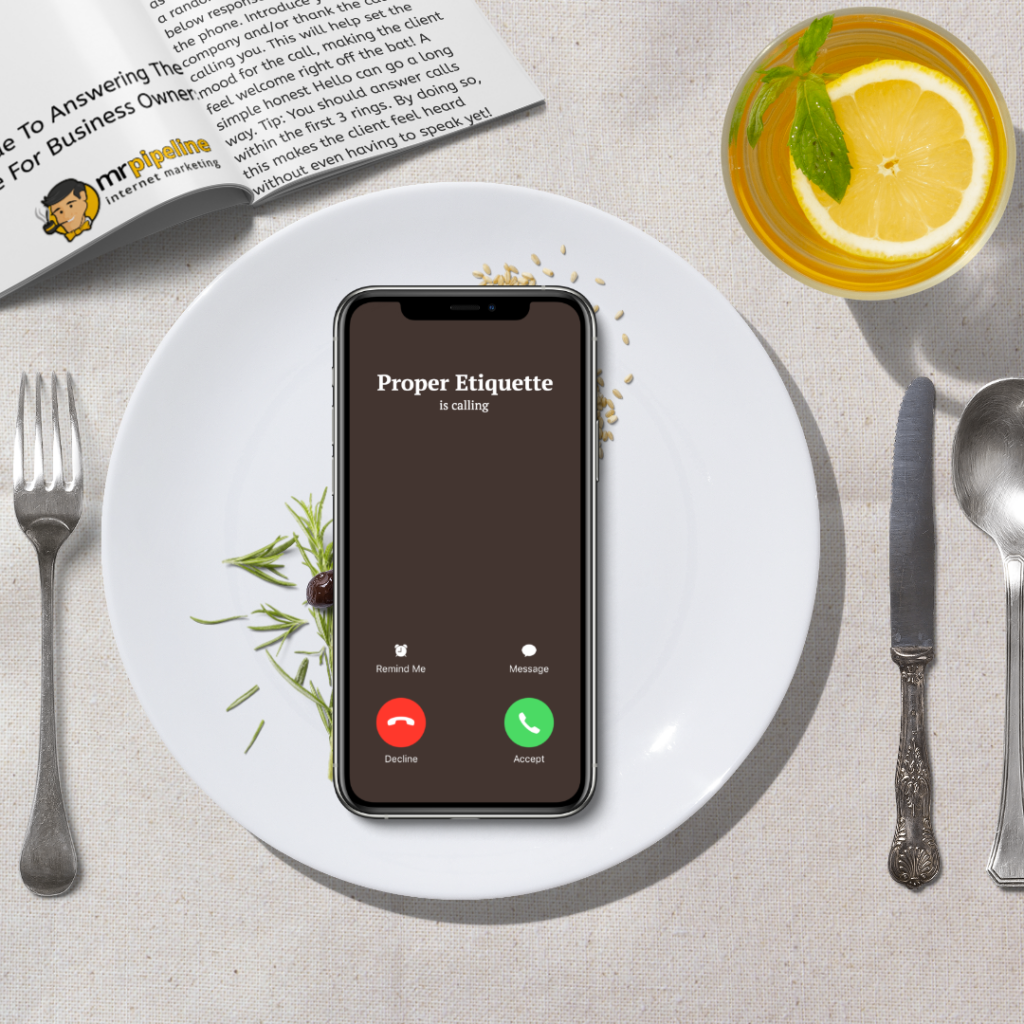 Graphic by: Britney Chambers
When answering calls…
… it is important that you set the mood, tone and action of the call right from the start of the conversation. Your first impression means everything! Instead of saying "Hello?", as if the client might think they dialed a random number, try saying the below responses when first picking up the phone. Introduce yourself, your company and/or thank the caller for calling you. This will help set the mood for the call, making the client feel welcome right off the bat! A simple honest Hello can go a long way. Tip: You should answer calls within the first 3 rings. By doing so, this makes the client feel heard without even having to speak yet!
Your tone is another important aspect of the conversation. Though the client cannot see you, stand or sit up straight so your voice can be projected at a clear and medium level pitch – speaking with confidence! Conversing in a clear and professional manner will ensure the conversation is fluid, rather than mumbled and misunderstood. Remain cheerful from start to end, and always be mindful of the volume of your voice.
Lastly, your actions are the icing on the cake! Your actions can be physical (more with in-person communication) but can also be shown verbally over the phone. Rather than waiting to start the conversation, say your thoughts, and end the call – take action! Ask questions and engage with the client on a more personal level.This type of action taken will become an appreciated and memorable conversation to the client. This is where you can establish a unique and appreciated relationship that becomes beneficial to the business. This will set you apart from other competing companies. Do your research. Make conversation. And engage with the caller!
These 3 little steps can help you answer calls more confidently, build relationships easier, and boost employee productivity and goals! Making calls can be more nerve wracking than actually meeting someone face-to-face, but with these simple steps, you can build yourself up to become more confident when doing so. Practice makes perfect! 
Ways to proper phone etiquette:
"Hello, and thank you for calling *company name*! My name is*insert name*. How can I help you today?"
"Hello! My name is *insert name* with *company name* How can I serve you today?"
"You've reached * company name * this is * insert name * How may I assist you today?"
If you have any questions or need some more guidance, feel free to contact Mr. Pipeline today at (561) 899-3043 or Info@MrPipeline.com