How can I trust my marketing company?
This is a huge question that many, if not all business owners ask themselves repeatedly about the marketing company they have working for them. It doesn't matter if they have been working with the company for 5 years or 5 days. Why is this question so important? Well, the biggest reason is because the business owner is investing hundreds or thousands of dollars a month into this company to help them bring in more revenue for their company. You must be able to trust the company with your money. Trust is huge when investing your hard-earned money into someone else's work.
We have all heard the horror stories about companies taking clients' money and not providing the results they promised they would. Even worse, is when you are paying a marketing company a set amount of money a month and they are pocketing funds every month that you think are going towards marketing. Here is an example that as an account manager I have personally ran into numerous times while talking to my clients about their past relationship with other companies.
Example: Let's say you invest $1000 into a marketing company to put into Google AdWords. The company initially tells you that they will take $200 from the $1000 budget as their service fee (which is fair), and invests the other $800 into Ads. This sounds good to you, so you believe them, and you proceed to move forward with this company. As a couple of months go by everything seems to be working as it should. Fast forward a few more months and things start to slow down a little bit, and you question the marketing company. After going back and forth with them you finally get a report stating that within the last few months they only invested $500 into Google AdWords Ads. Well, what happened to the other $100? I think we can all figure out where the extra $100 went. Unfortunately, right into the marketing companies pocket.
Companies like this are crooked. These types of companies make it extremely hard for the true, hardworking, and honest companies like Mr. Pipeline Internet Marketing to do their job for clients that deserve the best! Companies like Mr. Pipeline give you access to dashboards where you can see everything that their team is working on every month. They show you exactly how much money is being spent on Google AdWords every month without you ever having to question their work or where your money is being invested. The best part about a company like Mr. Pipeline is that they have the reviews and customer support to stand behind them.
What are some other steps I can take to ensure I can trust a marketing company?
            The answer is quite simple. Reviews and reputation! The first thing you should immediately do before investing into any company (whether it's a marketing company or a company you are trying to hire for personal services), is to check out their online reviews and reputation.
My best advice is to start by checking their reviews based on where you found them. For example: Google, Facebook, Home Advisor, etc. Google reviews hold the most credibility in my opinion because Google can remove reviews they believe are fraud as I have personally witnessed them doing this. What do I mean by this? There are many companies out there that will create fake Google accounts just to go and leave their company reviews. Now, Google is not perfect, but they have bots that cycle the web 24hrs a day looking for any type of fraudulent reviews. Uradna stran https://22bet-si.com/ : Igrajte za pravi denar in brezplačno. So, look for a company that has multiple credible reviews such as Google reviews. Find a company with reviews like this:

If reviews on one platform is not enough for you that's okay. Look them up on Facebook and see what real people are saying about them. With Facebook you can see the people that are leaving the reviews just by clicking on their profile. This way you can tell if the account is fake or not. Some people prefer growing their reviews on one platform over others but at the end of the day reviews are reviews! If you decide to check Facebook for reviews, make sure they look something like this: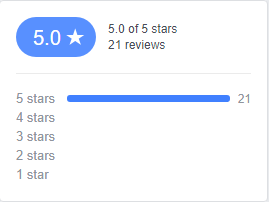 To wrap things up, do yourself a favor and make sure you investigate the marketing company you are choosing before investing in them. They may have someone on the phone who can talk the biggest game but have the worst reviews and customer satisfaction. That's not someone you want to work for your company. Choose a company that makes you feel like family or apart of their team not just someone they collect money from every month!