Community Leader Award
Do you make a real difference in your community? Gain a competitive advantage over your competition. Let the world know by showcasing our exclusive Community Leader Badge on your website.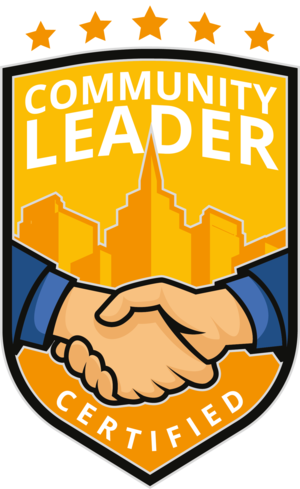 This prestigious accomplishment is awarded to Small Businesses that make a real difference in their local community. To meet the requirement, a company must:
1. Maintain an average star rating of 4 or above on Google
2. Serve impactful institutions such as hospitals, churches, schools and/ or government facilities
3. Stand behind their product or service and guarantee satisfaction
Why Should I Be a Community Leader?
Business is all about serving. The question is: Do you solely do it for the money or do you truly enjoy helping others? Statistics show that business owners that are involved in the community feel a complete different level of job satisfaction than owners that focus solely on profit. Whether it's donating your time to a local non profit, feeding the homeless or just taking care of someone in need when nobody is looking; the Community Leader Badge is for you. This exclusive badge goes directly on your website and lets your potential customers know that you are cut from a different cloth. Having this badge on your website holds tremendous power online. Our members have told us that the badge has not only helped them close more deals but it also helped them stand out from the competition. We have also heard that the badge adds credibility to their brand and most importantly showcases to the world that you serve a bigger purpose in business.
Find out for yourself the power of the Community Leader Award.
Where can I showcase my award?
This award is something that our members represent proudly! Our guidelines are simple. We don't just give the badge away to anyone. In fact, we actively come across companies that use and misrepresent this badge on their website or social media channels.
Mr. Pipeline then requires immediate removal. If you are a true member, the possibilities are endless. You may showcase the badge on your website, social media channels, vehicles, marketing materials and t shirts.
We love hearing awesome feedback about how our members lives are affected by standing out as a Community Leader. Here is what Mel of Space Coast Pressure Washing recently told us: "I landed the biggest contract in my life because of this badge. A property manager asked what makes us different and I told her that we truly love taking care of our community. In fact, we were honored with a Community Leader Award recently and we even have a badge on our website that shows the accolade. I won the bid the very next day and the property manager told me how much she valued that it wasn't all about the money and more about serving the community. That is something I will never forget and thank you very much for helping my business be portrayed in such a positive light." Apply with us today and take your business to the next level.